TECHNICAL VISITS
Technical Tour
T-Course A:
GSI (Geospatial Information Authority of Japan) and JAXA (The Japan Aerospace Exploration Agency)
(One day Tour) at Tsukuba city (60km from Tokyo)
19th of July, 9 am - 6 pm
JPY 8,000
The Geospatial Information Authority of Japan (GSI) is the national organization that conducts basic survey and mapping and instructs related organizations to clarify the conditions of land in Japan and that provides the results of surveys to help improve the land.
The Japan Aerospace Exploration Agency (JAXA) was designated as a core performance agency to support the Japanese government's overall aerospace development and utilization. JAXA's Tsukuba Space Center (TKSC) on a 530,000 square-meter site is a consolidated operations facility with world-class equipment and testing facilities.
T-Course B:
19th Century Early Modern Maps by Japanese map maker Nagakubo Sekisui at Koga-city: The National Diet Library and Koga Historical Museum
(One day Tour) 17th of July, 8 am - 6 pm
JPY 15,000
We visit two exhibitions on Japanese early modern cartography. The first is that at the National Diet Library (NDL) located in the central part of Tokyo. Seven sets of maps were selected from the collection of NDL as notable examples of Japanese early modern maps. The second is special exhibition of maps of Japan by Sekisui Nagakubo (1717-1801) and the role of his maps brought to Europe in the transition of Western geographical image of Japan at the Koga Historical Museum, Koga City, Ibaraki Prefecture.
* Tour detail is available from here.
T-Course C:
Marine Cartography Site at Tokyo Bay, supported by JHOD
(The Hydrographic and Oceanographic Department, Japan Coast Guard)
(Half day Tour)
16th or 18th of July, 1 pm - 4 pm (tentative)
JPY 3,000
JHOD complies Nautical charts for safety of navigation, and the hydrographic information such as water depths, tidal currents and tide observed by surveys; and publishes nautical charts and publications. The JHOD has published English version of Japanese Nautical Charts series for foreign mariners.
* Tour Detail will be announced in April.
T-Course D:
The Hydrographic and Oceanographic Museum of JHOD
(The Hydrographic and Oceanographic Museum, Japan Coast Guard)
(One hour English Tour, walk distance from Venue of ICC Tokyo)
JPY 1,000
* T-Course D has been changed the date and times, new schedule is followings, 17th and 18th of July. 1pm - 4pm guide tour will be given by personals on request. The Hydrographic and Oceanographic Museum of JHOD is located just 5-10 minutes walk from venue site behind "the telecom center" refer to bellow map.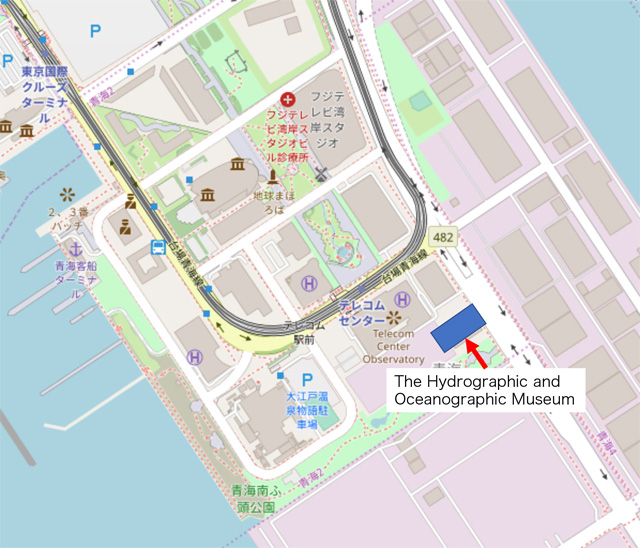 T-Course E:
National Diet Library (NDL)
(Half day Tour) 17th of July, 2 pm - 4 pm
JPY 3,000 (per tour)
The National Diet Library (NDL) is the library that belongs to the Diet. It is established by the National Diet Library Law. The National Diet Library collect books and other library materials, such as Maps for the purpose of assisting the members of the National Diet and also for the roles of providing certain library services as hereinafter specified for the executive and judicial agencies of the national government and for the people of Japan.
T-Course F:
Roppongi Hills Mori Tower and Diorama Model of Downtown Tokyo
(Half day Tour) 16th of July, 9:30am - 11:30 am
JPY 3,000
Tokyo, one of the largest cities in the world, is now facing inherent issues of infrastructural deterioration, fragmented landscape, overconcentration of political and economic functions, and increased risk of mega-natural hazards.
A 1:1000 Scale "Diorama Model of Downtown Tokyo", The photograph is not a panoramic view of Tokyo but of an exquisite miniature model of the city built by Mori Building Co., Ltd., which has been involved in the construction of office buildings, city design, and urban redevelopment, as typified by Roppongi Hills. The model covers downtown Tokyo, about an area of 220 km2 at a scale of 1:1000. The model incorporates infrastructure such as highways, railways, bridges, and port facilities to form a complete diorama.
The diorama of downtown Tokyo is expected to be used to create a grand design of Tokyo in the future.
The lunch will be provide at 51th floor of the Roppongi Hills Restaurant in additional charge of JPY2,000.
Please pay the fee on site.
T-Course G:
Tokyo "Suribachi" Topography Tour and "Cartographic Night" at Shibuya town
(includes "Shibuya Pedestrian Crossing" visit, dinner + drink)
(Half day + Night Tour) 17th of July
JPY 7,000
Tokyo "suribachi chikei sanpo" (Deciphering Tokyo Land form/topography Walking tour), 2 hour visit on downtown area guided tour and visit World famous "Shibuya Pedestrian Crossing".
"Shibuya Crossing is like a giant beating heart, sending people in all directions with every pulsing light change. Perhaps nowhere else says 'Welcome to Tokyo' better than this. Hundreds of people - and at peak times upwards of 3000 people - cross at a time, coming from all directions at once, yet still managing to dodge each other with a practised, nonchalant agility." (from Lonely Planet)
Cartographic Night Bar is hosted by Japan Cartographer's Association at "Shibuya Culture-Culture" which is the Music Venues, Venues & Event Spaces, on the night of the 17th. Cartographers in the world will attend and it will be an entertained meeting with many Japanese amature map fan exchanging ideas and deepening friendship.
T-Course H:
Tokyo Landscape "The Canal and Rivers create the Tokyo", discovery cruise by ship that special experience of Japanese Megalopolis History (Edo to Tokyo)
Departure at 3 pm and dissolution at 7 pm on 16th July
JPY 8,000
Departure at 3:00 pm ~Arrive at CAPTAIN's WHARF at 4:30 pm ~ Dissolution at 7:00 pm
Tokyo landscape cruise discovers the transition of the city of contemporary Tokyo megalopolis from urbanization of the Edo period. The river and canals had been developed the bay areas and build many ports at the edge of natural rivers.
We will trip 1.5 hours by Zea fleet at Tokyo's waterfront beautiful scenery with the guides. From"Tennouzu Pier"the ship will be departed travels through the Megro River Water Gate, around the historical Sumida River, the Rainbow Bridge, Tsukuda Island , Toyosu and the site of 2020 Olympic facilities.
Across the Tokyo Bay, around Odaiba fortress which built the Edo era and historical stone masonry walls, after cross the Keihin-Canal, will be return to the departure point. Guide is our Incorporated Association of Riverside Area Forum.
T-Course I:
High-School in Tokyo and Cartographic Education Class
(One Day) 19th of July, 1 pm - 5 pm
JPY 3,000
Visit "Shinagawa Girls High-school" at Shinagawa (10km from Venue of ICC Tokyo) and observe 7th grader's "Geography Class" using GIS at School. You will also attend School cultural exchange program.